Grandmaster
by Warren Murphy, Molly Cochran

Used Price: $8.45

Order from:

Availability: This title is currently out of stock. However, you can buy it used now.
Paperback Reissue edition (April 1988)
Pinnacle Books; ISBN: 1558171010
Average Customer Rating:

Based on 11 reviews.
---
Spotlight Reviews

A great read - Monks meet Sinanju, April 1, 1998
Reviewer: Richard C. Drew (see more about me) from Chicago, IL
If you like the Destroyer series, you'll like this book. It has nothing to do with the series, but the hero has many of the characteristics of Remo in the Sinanju saga. Chess playing Yin vs Russian spy Yang. Mystery, twisted plots, and more. Great read. --This text refers to the Paperback edition.
---

captivating... get the book, find the time to read it, August 31, 1999
Reviewer: A reader from Madison, WI
I was immediately enthralled with this book. It quickly became one of my favorites, and I have never been desperate for something to read since because whenever I have nothing to read I pick up this book and read it again. --This text refers to the Paperback edition.
---

American mysticism rules, ok?, September 12, 2000
Reviewer: Allan (see more about me) from Taupo, New Zealand.
What a rattling good yarn. I read this book, and its sequel, a number of years ago... and was lucky enough to find a battered, tattered old copy in my local library just the other day.

I don't know where it came from: it's not on their computerised index.

This a good read. A great way spend a cold winter's afternoon. Justin Gilead is all that's good about America and the East, and the bad hats are truly nasty. There's plenty of magic and mystery.. and the chess games are as tense as they should be. The characters are well-written, the story's a beaut, even the cover design's good.

If this book is ever re-released, I want it. You should, too. --This text refers to the Paperback edition.

---

One of my favorites!, June 24, 2000
Reviewer: Bryan Qualls (see more about me) from Illinois
Get this book and read it! Good vs Evil at its best. I have lost this book a long time ago and I keep checking on amazon to see if its back in stock. I have no problem recommending this book to anyone! --This text refers to the Paperback edition.

See all 11 customer reviews...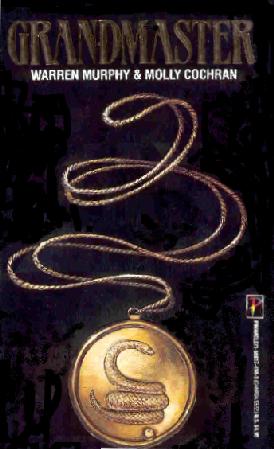 ---
There are only two true powers in the world. One is Goodness. One is Evil. And one man knows them both.

He knows the uses of pleasure, the secrets of pain, the impact of evil turned upon itself.

He understands the deadly forces that grip the world in treachery, espionage, swift violence, and sudden death.

He moves like a shadow, a whisper, a promise of danger, from Moscow to Washington -- from Havana to Tibet.

In the gam that may never be over, he is the...

GRANDMASTER


THE SIGN OF THE GRANDMASTER

Zharkov saw Gilead only twice during the twenty-five years after their first match.

On both occasions, Zharkov had killed him. On both occasions, the Grandmaster had returned.

And now the medallion had surfaced, and Alexander Zharkov knew what it meant. He knew it as surely as he knew the sun would rise in the morning. He had feared it for years.

Just Gilead -- the Grandmaster -- was alive.

Unconsciously, Zharkov's hands lifted to the high Russian military collar he wore.

He tore open the collar. Beneath it, burned into his flesh and scarred into ugly permanence, was the mark of the coiled snake.